Post submitted by Sharon Eifried, MG
One way to experience a connection to community is to dwell with children in the garden. Chris Lichty, a Pulaski County Senior Extension Agent who specializes in 4-H Youth Development, describes his work with students, teachers and master gardener volunteers as a "connection to community." He recommends this "connection" as a valuable goal for all.
In March 2017 at Riverlawn Elementary School, nineteen master gardeners, three teacher volunteers, six students and several parents heard Chris explain how the 4-H program is designed to engage members in "hands-on inquiry" gardening and horticulture projects in their school and in their community. The garden becomes a living laboratory for collecting data and reporting results. Chris stated that the whole experience nurtures the children's appreciation for gardening and the environment.
Chris explained that the objectives of the 4-H garden project are to teach students: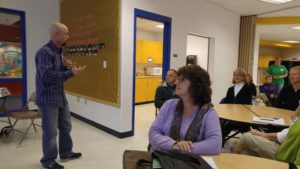 To apply mathematics, science, language arts and technology skills to maintain the greenhouse environment suitable to growing annuals and perennials
About plants they can grow that are fit for their consumption and plants that will provide food for wildlife
About a variety of annuals and perennials that can be planted in the greenhouse and later in the gardens
To observe, identify and record observations on plant growth and yield and on wildlife attracted to their gardens.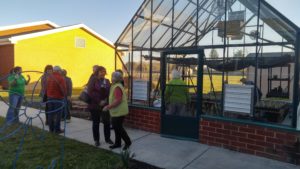 The children who attended the presentation are enrolled in third, fourth and fifth grades. They created a beautiful and colorful banner to welcome Master Gardeners to their world and listened intently as Chris shared their story. At the conclusion of Chris's presentation, the students shared about their desire to learn about gardening and also talked about gardening with their families at home.  The students were excited to lead us all to their 14 foot by 14 foot greenhouse to see the plugs that they had just planted. The students and teachers laughed about the need for some math skills to figure out the best planting patterns for their new plugs! They also were growing plants from seeds and were enjoying the taste of their lettuce crop. Some of the crops the children plan to grow include lettuce, peppers, tomatoes, cucumbers and flowers.
In addition to the 4-H Garden Club at Riverlawn Elementary School, there is a Garden Club at Pulaski Elementary School. Other 4-H projects in Pulaski County include the Critzer Elementary 4-H Junior Master Gardeners Club, 4-H Adopt-A-Spot (landscaped median), 4-H Community Garden in Pulaski and a Horticulture Workshop at 5th Grade Ag Day. For the past several years, Chris has applied for and received a grant from the New River Valley Master Gardener Association. The funds allow for purchase of seeds and bedding plants for use in the schools' gardens, for plant sales and for the 4-H'ers planting at their homes. Gardening workshops are conducted with youth and parents for the purpose of instilling a family love of gardening and a sense of accomplishment.
Through Pulaski County 4-H programs, Chris strives to foster the love for the outdoors through gardening and horticulture. Chris states that Pulaski County 4-H is alive with learning experiences where young people partner with caring adults and volunteers in a fellowship unlike any other program available to youth today.