Twelve Secrets to Spectacular Tomatoes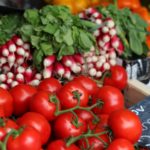 Tomatoes – they're a genuine American pastime.  Growing them, eating them.  You could say I have a crush on tomatoes!  What's better than a home-grown tomato?  I can't think of anything and many fellow gardeners agree.  At least one survey says that nine out of ten gardeners will try growing tomatoes.
Here are twelve tips for success:
Select healthy, disease-resistant plants. Some plants are labelled VFN, indicating resistance to Verticillium wilt, Fusarium wilt, and nematodes.  There are also new varieties that are resistant to early and late blight.
Keep in mind our growing season and check the plant label for days to maturity. Many gardeners select indeterminate varieties, which develop flowers and fruit until frost; others prefer determinate tomatoes, which have a compact growing period.
Harden tomato plants before planting, if necessary. Tomatoes grown in greenhouse conditions until purchase can suffer from shock if planted immediately after purchase.  Hardening gradually accustoms them to the outdoors by putting them outside in full sun (and wind) for a few hours a day, increasing the time they stay out at night too, weather permitting.  Ask your local retailer if the plants you're buying are already hardened off.
Select a location with a minimum of 8 hours of sunlight.
Amend your soil with organic matter, and loosen an area larger than you need.
Space tomato plants at least 3 feet apart. Many diseases affecting tomatoes spread from lack of air circulation or touching leaves. Using stakes, cages, or trellis will help control disease.
Before planting, remove any blossoms that have developed in the greenhouse. This may seem counter-intuitive, but it eliminates competition for crucial energy and nutrients during root development.
Gently separate the roots to encourage the root system to generate new roots that will spread away from the plant.
Plant the tomato with as much of the stem covered as you can, removing the lowest leaves. Roots will form along the entire length of the buried stem, resulting in a more vigorous and health plant.  Add a narrow band of aluminum foil to the stem to protect from tomato cutworm.
Mulching will reduce weeds and help retain moisture. Organic mulches should be at least 2" deep. Or, you can use several layers of newspaper or UV-resistant black plastic at least 6ml thick as mulch.  Whichever you select, be sure it doesn't touch the plant.  Use copper or other metal rings to discourage slugs and other insects that may be in the mulch from getting to the plant.
Provide consistent, even moisture to reduce blossom end rot. One to three inches of water weekly is critical to getting water deep enough (5 – 6") to promote vigorous growth.  When watering, take rain into account.  Water should be applied at one time if possible, so use drip irrigation, a soaker hose, or flooding since overhead watering can spread disease. Morning is the best time to water because any foliage that does get wet will have time to dry out.
Apply a starter fertilizer when you first plant and then establish a sound fertilizer program to keep plants vigorous and productive.
Even if you plant a little late, your tomatoes will catch-up.  With the right weather conditions and a little luck, these tips will help you grow a great tomato crop.