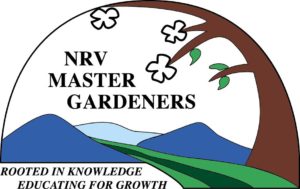 MEMBERSHIP: The New River Valley Master Gardener Association (NRVMGA) is composed of members who have completed an Extension Master Gardener Program or are Virginia Cooperative Extension (VCE) Master Gardeners, Interns or Trainees.
MISSION: The purpose of the Association is to provide service to the community by promoting good horticultural stewardship in accordance with standards approved by the VCE and its Master Gardener Program. Additionally, the Association fosters communication, education, and fellowship among its members and the community.
JOINING THE NRVMGA: All master gardeners are encouraged to join this vibrant Association. The annual membership fee of $15.00 helps to support the work of the organization as it fulfills its mission. In order to join or renew a membership in the Association simply print the membership form found here 2018 NRVMGA Membership Form and forward the completed form and dues payment to the address listed on the form. The NRV Master Gardener Association is a non-profit organization (501c3) and depends on membership fees to cover operating expenses.
MEMBER ACTIVITIES: The main activities of the New River Valley Master Gardener Association (NRVMGA) include the following:
Plan, coordinate and offer monthly educational programs
Plan, organize and implement fundraising activities
Administer the NRVMGA grant program
Support the Extension Master Gardener trainee/intern program
Participate in ongoing Master Gardener projects
Publish the NRVMGA Newsletter known as the "Grapevine"
Create and maintain the NRVMGA website
Create and update NRVMGA Facebook page
Create a membership directory that is available by email to members
Facilitate social gatherings such as the new Extension MG training class social, May potluck/MG Intern Graduation, and November Holiday/Year-End Potluck which is also the NRVMGA annual meeting
Maintain financial records and file appropriate federal and state tax forms required of nonprofit organizations
GOVERNANCE: The NRV Master Gardener Association is governed by an Association Board composed of President, Vice President, Secretary, Treasurer and Members at Large. The Bylaws MGA Bylaws NOV 2016 and Standing Rules  MGA Standing Rules OCT 2016 of the Organization can be downloaded by clicking on the titles.