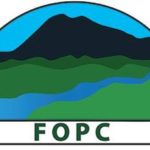 On Tuesday, February 20th, at 7 PM, at the Montgomery County Government Center, join the members of the NRV Master Gardener Association for a very informative talk about the important work of the Friends of Peak Creek (FOPC).  Cathy Hanks, President of FOPC, will describe the efforts that this nonprofit organization has taken to improve water quality and ecological habitat of the creek which has a drainage area of over 60 square miles and meanders over 26 miles from its source in Jefferson National Forest into Claytor Lake. The work of FOPC also fosters environmental awareness and provides education.
Some of the ongoing projects include planting live stakes to stabilize stream beds, placing bluebird nesting boxes along the canal and monitoring water quality. Their latest project is the installation of a pollinator garden for the purpose of habitat enhancement and public education. The FOPC have been awarded a MGA 2018 Community Grant that will be used to help establish the garden.
Come on out and enjoy an evening that promises to provide not only education, but the opportunity to engage in conversation with Cathy Hanks and the coordinators of some of the other projects that received grant funding from the MGA this year.  Light refreshments top off the reasons why you should not miss this golden opportunity!
Visit the following sites to learn more about FOPC
https://www.facebook.com/peakcreekfriends/
https://www.facebook.com/peakcreekfriends/